I've been nominated for "Santa's Blog of the Day"! Click on the button below and then vote for me on the Santas Blog of the Day blog so Pink Lemonade can be the top blog today!!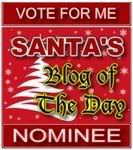 There's still plenty of time to enter the March Madness Sweepstakes! Click on the button for details on how to enter to
win one of four fantastic prizes!

Be sure to email all your Questions about your guy to Eric - He'll be answering them
every
most Saturdays! Click on the "Ask Eric" button to email your question now!
--- Eric currently has no questions for Saturday, send him a question today.... show him we want to hear from him!
Subscribe to my Blog!