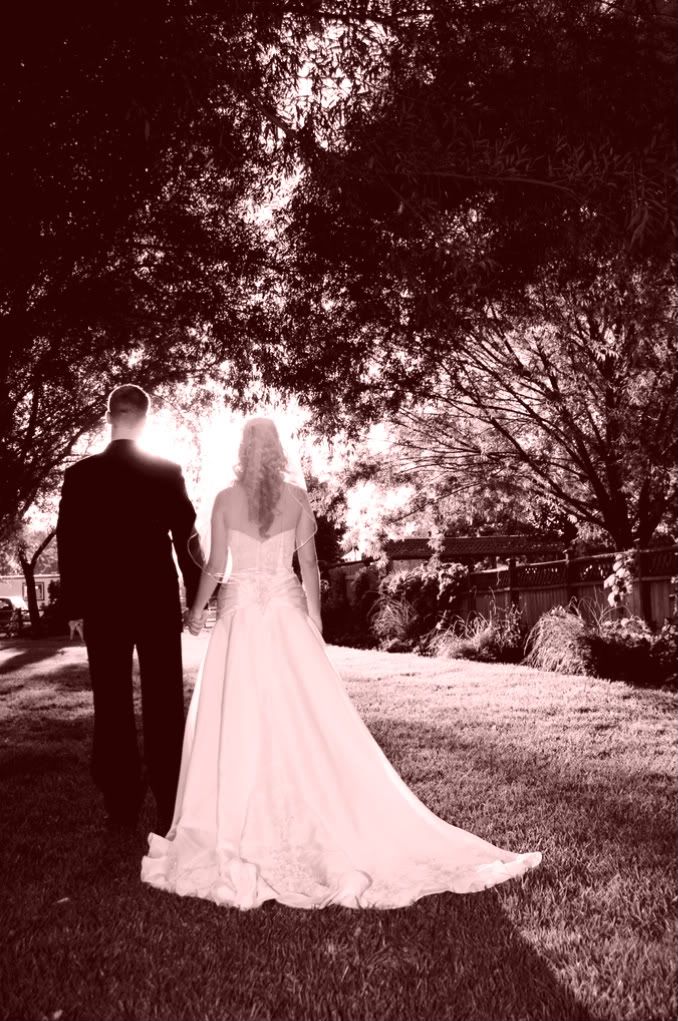 Over the weekend, Mr. Pink Lemonade (Eric), the Girls and I were privileged to attend the wedding of a very sweet girl whom we have known since she was thirteen years old. At the time (the early 90's), Eric's family owned an old fashioned soda fountain off the main street in the little town of St Helena, at the northern end of the Napa Valley. Little miss Blanca, bouncy, bubbly and feisty came in asking for a job. Eric hired her and she became our most trusted employee. We watched her go from being an awkward teenager to become a graceful young woman during the eight years she worked for us.
At one point, we learned that she had never been to the beach so Eric, his Sister Cyndi and I took her to the Santa Cruz Beach Boardwalk to let her experience the beach for the very first time - her response to dipping her feet into the pacific ocean for the very first time was that "Seaweed is slimy". We attended her high school graduation and her junior college graduation. She was a part of our wedding day and was there to visit us in the hospital after Collette was born. After junior college she decided to take on the bigger world and pursue her degree in biology with the hopes of becoming a pediatrician - we were sad to see her leave, but knew that she would succeed in life.
Eighteen years later,
we
had the honor to attend
he
r wedding and it was beautiful. All grown up, Blanca looked more beautiful than we had ever seen her. She and her new husband, Ray seem very well suited to each other and we wish them nothing but the most wonderful new life together (and lots of children, as was pointed out many times during not only the wedding ceremony but the reception - nothing like pressure!).
The wedding took place overlooking a beautiful golf course, the wedding (as is quite common) was running a few minutes late - but I was amazed that at the time the wedding was scheduled to start, only half the guests had even arrived. By the time attendants were beginning to walk down the aisle (25 minutes later) people were still arriving - if the wedding had begun at the scheduled time, these guests would have missed the whole thing - I guess it wasn't that important to them after all. Here's the real shocker... I know it has been a while since I've been to a wedding, but I was completely shocked when an announcement had to be made before the wedding began for all of the guests to turn off their cellphones! I'm appalled that someone would leave their cellphone to ring during a wedding (I guess I shouldn't be, it happens weekly during church) - can't these people just take thirty minutes out of their lives to celebrate this marriage - do they
have
to be available
every second
??... (Okay, if they were doctors, I could see it - but doctors would know to put their phone on vibrate!).
I always cry when I go to a wedding - I remember the profound sense of happiness that overcomes you on that very special day. Two people who love each other are beginning a new life together and it is, indeed, a reason to celebrate, and we all gather with them to do this.... but could you please be adult enough to turn your cellphone off on your own without having to be told!!!
Funny Story:
After we were seated at the reception, the waitstaff was pouring champagne for the adults and sparkling cider for the children. Little miss Lauren was getting ready to drink all of hers and her aunt Cyndi told her to save it because it was for the toast. Lauren replied.. "Oh good, they're having toast - I like toast!"...
Posted by Liz of Pink Lemonade

Featured Weekly on Posh Mama Online Magazine
Don't miss a Thing! Subscribe to my Blog!