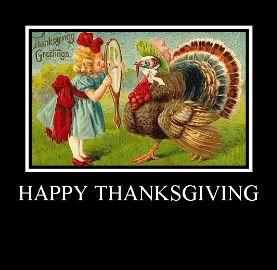 H
appy Thanksgiving to all my wonderful readers in the US - for my readers abroad, Have a great day!
Here are four youtube videos that make up an entire episode of Alton Brown's
Good Eats
"Romancing the Bird" episode (you all know Alton is my favorite "cooking guy").
There you have it - my very favorite Thanksgiving Dinner "How-To" show! (of course, I do mine a little differently, but Alton is so fun to watch!)
Happy Thanksgiving - Don't eat too much - there's some serious shopping to do in the morning... Shall we set our alarms for 4:30am? - meet you at the Walmart!
Turning Lemons into Pink Lemonade!

Posted by Liz of Pink Lemonade

Featured Weekly on Posh Mama Online Magazine

Don't miss a Thing! Subscribe to Pink Lemonade's Feed
Subscribe to Pink Lemonade by Email

Be sure to enter our Fall Fling/Blogaversary Giveaways!!