T
hanksgiving is only eight days away! If you haven't already started thinking about your meal, you'd better get thinking... and quick! Today I have a recipe that will help you with your Thanksgiving dinner preparations - Mashed Potatoes that you can make today for your feast next week!
Make-Ahead Mashed Potatoes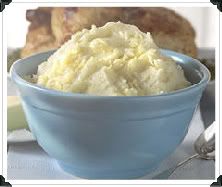 10 pounds Potatoes
2 Eggs
1 teaspoon Garlic Powder
1 teaspoon Onion Powder
1/4 cup + 2 Tablespoons Melted Butter
2 teaspoons Salt
16 ounces Cream Cheese
1/2 cup Crumbled, Crisp Bacon (optional)
------------------------------------------------------------------
Peel and quarter the potatoes, place into a large pot, cover completely with water. Bring to a boil & gently cook until tender (when you can pick up a piece with tongs and it breaks apart easily when squeezed).
Drain well, return to hot pot to let any water evaporate that may remain on the potatoes after draining. (several minutes)
Add cream cheese, eggs, garlic powder, onion powder salt and bacon. Mash well by and or with an electric mixer.
To serve immediately:
Grease a 9x13 pan with butter, add potatoes and drizzle or brush melted butter over top of potatoes. Bake at 375 fir 30-40 minutes until top is golden.
To make up to 2 days ahead:
Prepare potatoes and place into 9x13 pan as directed - refrigerate for up to 2 days before baking.
To make today and freeze:
Prepare potatoes as directed, place into a greased 9x13 disposable aluminum pan or into large zipper bags. Label and freeze. To serve, thaw completely in the refrigerator. If you used a disposable aluminum pan, you can just pop it into the oven after your potatoes are thawed, if you used zipper bags, you'll need to move the potatoes into a greased 9x13 pan before baking.
These are always a hit at my Thanksgiving table and there are rarely leftovers (even though I always make twice as much as I think I'll need!) - they're that good.
- Makes 14 cups
Next week, I'll help you with that turkey, but here's what you'll need to have on hand (
because you'll begin on Wednesday morning at the latest
)...
1 gallon Veggie Broth
1 cup Kosher Salt
1/2 cup Dark Brown Sugar
1 Tablespoon Peppercorns
5 pounds Ice
1 Turkey
A 5-gallon upright drink cooler or an Ice Chest bigger than your Turkey
... Yes, you think I'm insane, but trust me - you'll have the best Turkey you've ever cooked (and the easiest too!)
Turning Lemons into Pink Lemonade!

Posted by Liz of Pink Lemonade

Featured Weekly on Posh Mama Online Magazine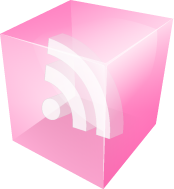 Don't miss a Thing! Subscribe to Pink Lemonade's Feed

Subscribe to Pink Lemonade by Email

Be sure to enter our Fall Fling/Blogaversary Giveaways!!