T
he Thanksgiving Turkey, it's the thing Norman Rockwell captured in pictures - the thing we all look forward to all year. Unfortunately, for some, it is something that is mysterious and seemingly unattainable. Not this year... the perfect Thanksgiving turkey is now within your reach by following these easy steps.
The Perfect Thanksgiving Turkey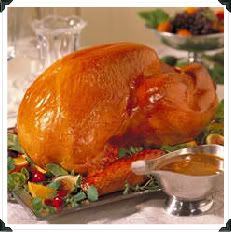 For the Brine:
1 gallon Veggie Broth
1 cup Kosher Salt
1/2 cup Dark Brown Sugar
1 Tablespoon Peppercorns
5 pounds Ice
A 5-gallon upright drink cooler or an Ice Chest bigger than your Turkey
Of course, you'll need 1 Turkey big enough to feed your crowd (ask your meat counter guy how big a turkey you'll need based on how many guests you need to feed and whether you want lots of leftovers or not).
For the Turkey Roasting:
1 Stick Butter
Salt, Pepper, Poultry Seasoning
1 Carrot
1 Onion
2 Stalks Celery
Fresh Sage
Fresh Thyme
You'll also need a probe-thermometer (I have one like the one pictured and use it for EVERYTHING!!). It's a must-have for a perfect turkey and will only set you back about $17 at your local Target store.
-------------------------------------------------------------------------
To begin the perfect Thanksgiving turkey, you'll need to brine your bird - which means you'll need to begin making the brine early on Wednesday morning to give it time to chill before you pour it on your gobbler Wednesday evening.
Here's my favorite chef Alton Brown to explain how to brine your turkey... (you'll notice I've called for 5-gallon upright drink cooler or an Ice Chest bigger than your Turkey instead of the bucket Alton calls for [just because I'm one of those people who are always worried about bacteria] - better safe than sorry I always say!)... On with Alton to explain how to brine your bird:
Be sure to remove the neck and giblets before brining. I always use my handy-dandy probe thermometer and place the probe in with the turkey once it's brining - I set the temp alarm to go off if rises above 41 degrees that way I'll know [even if it's in the middle of the night] that I need to add more ice to cool it down - (I've never had to add more, but once again, better safe than sorry).
Once your bird has brined all night long and it's Thursday - you're watching the Macy's parade, the kids are running around in their pilgrim hats, you'll want to begin cooking your bird. We're not stuffing the bird (once again, bacteria issues) but I do make dressing and bake it in the oven after the bird comes out - just as tasty, no food poisoning worries.
Remove a rack from the oven, and position the last rack to be the second to the bottom ledge (in other words, not the very bottom) - Pre-heat your oven to 500 degrees F - yes, you read correctly, 500!... trust me here.
Give your gobbler a quick rinse, pat him dry and place him in his final resting spot on a roasting rack in your roasting pan.
Give the inside of the bird a quick sprinkle of salt & pepper - quarter your onion, chunk up your carrot and your celery stalks and along with some of the sage and thyme shove them into the cavity of the bird to add some extra flavor while he roasts (these will be discarded after roasting).
Melt the butter in a small saucepan (or the microwave) and brush it all over your turkey. Sprinkle liberally with salt, pepper and poultry seasoning.
Add 1/2 cup water to the bottom of the roasting pan and insert your probe thermometer into the thickest part of the thigh
without touching the bone
and set the alarm for 185 degrees.
Place the turkey in a preheated 500-degree oven for a half hour. Set your timer! The reason for the intense beginning heat is that this will allow the fat under the skin on the bottom of turkey (remember- you've got her sitting on a rack in the roasting pan) to melt and help brown the skin on the bottom. No more mush bottomed turkeys! Also, the turkey will begin to turn bronzy brown, which you want. After the initial 500-degree zapping, turn your oven down to a respectable 325 degrees. Do you feel better now?
DO NOT OPEN YOUR OVEN DURING THE COOKING UNLESS YOUR TURKEY IS BECOMING EXTREMELY OVER-BROWNED!!
Only then you may open it only long enough to tent it with foil - don't open the oven again until the turkey is cooked. NO BASTING!!!! Promise me you won't baste your bird... Just promise me...
When your timer tells you the thigh has reached 185 degrees, go ahead and pull your guy out of the oven and tent him semi-tightly with foil. Wait at least twenty minutes before attempting to carve your bird.
Here is a chart for the
approximate
cooking time according to your bird's weight:
UNSTUFFED TURKEY
8 to 12 pounds 2 3/4 hours to 3 hours
12 to 14 pounds 3 to 3 3/4 hours
14 to 18 pounds 3 3/4 to 4 1/4 hours
18 to 20 pounds 4 1/4 to 4 1/2 hours
20 to 24 hours 4 1/2 to 5 hours
24 to 30 pounds 5 to 5 1/4 hours
And, just in case you consistently struggle with the carving of your bird every year, here's Alton again to show you how:
There you have it - The Perfect Thanksgiving Turkey!
Please, please, please leave me a comment on Friday and tell me how your turkey turned out!
Recipe in part thanks to
Flylady
- I've added my own variations.
Turning Lemons into Pink Lemonade!

Posted by Liz of Pink Lemonade

Featured Weekly on Posh Mama Online Magazine

Don't miss a Thing! Subscribe to Pink Lemonade's Feed
Subscribe to Pink Lemonade by Email

Be sure to enter our Fall Fling/Blogaversary Giveaways!!