I had always heard other mothers singing the praises of swaddling. And although I had been amazed by how well it seemed to work in the hospital, when I got my babies home I was unable to replicate the effect. Every time I would get my babies all snug and tight they would move a bit and wiggle themselves right out of the blanket. I would eventually just quit trying.

With the birth of baby number four I was determined to figure out what I was doing wrong, so I carefully watched the nurses. What I discovered surprised me! They did NOT use the swaddling method that I had always been taught. No placing baby in the corner of the blanket as to make a little hood, no starting with the bottom of the blanket first….how could I have been so wrong??? What I learned was my life saver! With three active older children, I needed my baby to sleep, and the swaddling method my husband and I affectionately call the "burrito wrap" definitely helped our little boy sleep. It was amazing; he didn't wiggle out with the tiniest roll. He stayed snug and warm all through his naps.
Now I want to pass this knowledge on to you. I am using one of my daughter's dolls for the purposes of demonstration, as I do not think my 18 month old son would co-operate for me anymore.
First: Lay baby across the long side of your receiving blanket (a square shaped blanket is also fine).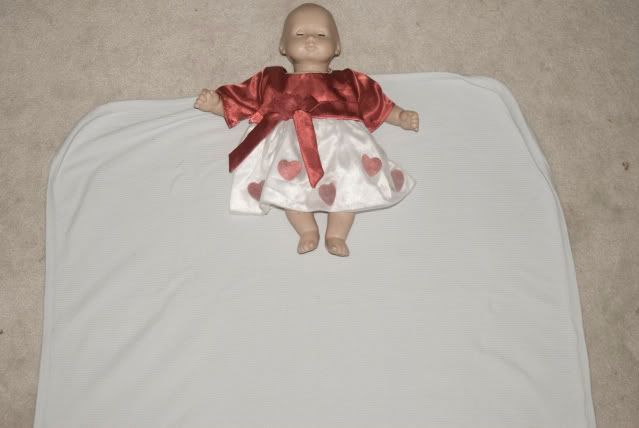 Second: Tuck baby's arm snugly by its side and wrap top corner across baby and tuck under.


Third: Repeat with other side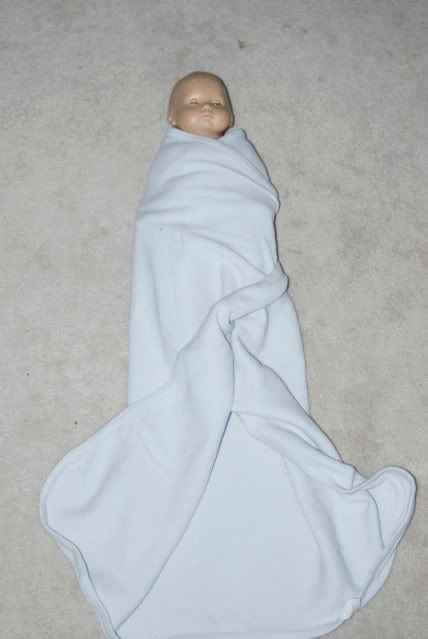 Last: Now bring the bottom portion of the blanket up and wrap all the way around baby, if there is too much blanket, just fold down a portion until it tucks right under baby's chin.

Here is a back view (Please DO NOT put baby to sleep on their tummy, this image is only to illustrate how the swaddling appears from behind)

Now you have your own little baby burrito (and a happy mommy too!)
- Christine
Posted by Christine of
Random Thoughts With Chris
Featured weekly on
Pink Lemonade Online Magazine