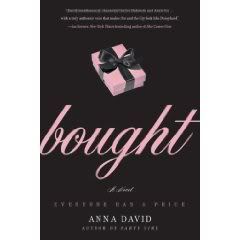 Anna David, relationship, sex and addiction expert writer of the best-selling book Party Girl and the upcoming novel Bought, brings you a tale of high-class prostitution in Hollywood.
An LA-reared aspiring journalist, Emma Swanson gathers banal quotations from celebrities on press lines, publicly yearning for a more substantial job and privately hoping for a hot-shot boyfriend to transport her into the Hollywood social scene she's always gazing in on from the outside. Actually, she'd settle for the thriving occupation: after all, she speculates that joining the ranks of successful journalism will allow her the acceptance she desires, anyway.
Then she meets Jessica, a cavalier and manipulative beauty who shamelessly trades sex for the gifts it can bring. Convinced that writing a story on Jessica and her ilk will give her the career she wants -- and positive that the Jessica's of the world have inestimable power -- Emma gets sucked into the orbit of Jessica's brand of prettied-up prostitution. But she soon realizes that her problem isn't the lack of a boyfriend or impressive job. It's who and what she's become -- and whether or not she'll be able to find her way back.
Just in time for a great summer read, we have one (1) copy of
Bought: A Novel
to give away to one lucky reader.
There are several ways to enter - here are the rules:
Please note: Your email address

MUST

either be in your comment or available on your blogger profile or your entry will NOT count!!
**
*
Leave us a comment on
any
post here at Pink Lemonade (
be sure to comment on this post & let us know where you commented
).
*
Become a follower on
Twitter
. Leave me a comment to let me know your twitter name (if you are already a follower, leave me a comment with your twitter name).
*
Become a fan on our new
Facebook
page. Leave me a comment to let me know your Facebook name.
*
Subscribe to our
RSS Feed
or sign up to receive Pink Lemonade by
Email
. Leave me a comment to let me know you. If you are already a subscriber, leave me a comment and let me know.
*
Blog about our contest on your blog. Leave me a comment with your post url.
*
Place our widget on your blog (it's toward the bottom of this page in the far right column - just click "get widget" at the bottom of the widget). Leave me a comment with your site url.
*
Become a member of our
Social Network
. Leave a comment with your username.
There you have it! Seven very simple ways to enter our contest - how easy is that? Complete rules can be found on our
Contest
page.
This contest ends TODAY Tuesday, June 9th at 11:59pm (pdst) so don't wait - make sure you've gotten all seven entries TODAY!
Please note:
entries received after the cutoff time will be deleted prior to drawing a winner.
- Liz
Posted by Liz of Pink Lemonade