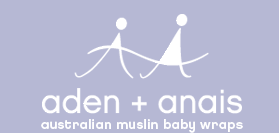 S
waddling your baby - it's one of the easiest ways to make a new baby feel safe and secure. It's not always easy to achieve, blankets come loose and the cries of a baby feeling small in a very big world begin. But after a few hundred times, you get it down pat - just about the time they don't need that tight comfort so much anymore. That's okay because you'll be able to use your new found expertise on your next baby... or teach a very tired and thankful friend.
Yes, you can swaddle your baby in just about any baby blanket, but for the ultimate in softness, you just can't beat
Aden + Anais
their swaddling blankets are made from soft, breathable muslin fabric for air flow and ultimate comfort. At Aden + Anais, you'll also find dreamy muslin blankets, perfect for keeping those little ones warm without overheating. Great muslin towel sets are also soft and comfy on sensitive little skin.
As one of our Grand Prizes, we have one (1) Winter Warmth blanket to give away to one lucky reader.
There are several ways to enter - here are the rules:
Please note: Your email address

MUST

either be in your comment or available on your blogger profile or your entry will NOT count!!
**
*
Pop on over to
Aden + Anais
and read all about their wraps and blankets. Then come back and leave us a comment telling us about how you swaddled your baby.
*
Become a follower on
Twitter
. Leave me a comment to let me know your twitter name (if you are already a follower, leave me a comment with your twitter name).
*
Become a fan on our new
Facebook
page. Leave me a comment to let me know your Facebook name.
*
Subscribe to our
RSS Feed
or sign up to receive Pink Lemonade by
Email
. Leave me a comment to let me know you. If you are already a subscriber, leave me a comment and let me know.
*
Blog about our contest on your blog. Leave me a comment with your post url.
*
Place our widget on your blog (it's toward the bottom of this page in the far right column - just click "get widget" at the bottom of the widget). Leave me a comment with your site url.
*
Become a member of our
Social Network
. Leave a comment with your username.
There you have it! Seven very simple ways to enter our contest - how easy is that? Complete rules can be found on our
Contest
page.
This contest ends Monday, June 15th at 11:59pm (pdst) so don't wait - make sure you've gotten all seven entries before it's too late!
Please note:
entries received after the cutoff time will be deleted prior to drawing a winner.
- Liz
Posted by Liz of Pink Lemonade