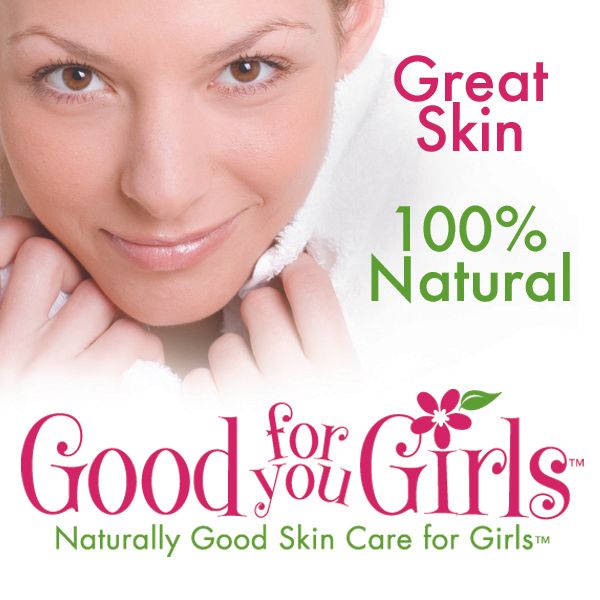 You've got daughters - and of course, they're dying to try every skincare product you own... right? How many times have you either walked into the bathroom only to find them slathering themselves with expensive moisturizer or noticed that your cleanser is at a significantly lower level than the last time you used it?
Yes, our daughters want to be just like us - and that's a good thing, but
notsomuch
when it comes to skincare. We, of course, need to teach them healthy skincare habits - but not necessarily with the same products we use on
our
skin.
But what should we give them? Of course there's the old standby of ivory soap, or the glycerin soap bar. But are those really taking the best care of their skin?
Good For You Girls
skincare is formulated with only the purest, natural ingredients that are truly safe for your daughter's skin. This isn't baby-wash disguised in a fancy bottle, this is REAL skincare specifically made for young skin "
with effective ingredients that will clean skin of impurities, balance pH and protect her young skin from the elements
".
And Good For You Girls is created with a custom blend of natural aromatics and organic essential oils of orange, lemon, grapefruit and bergamot. Easy to use, smells fabulous, good for her skin. - what more could you ask?
We have one (1) Complete Skincare Kit from
Good For You Girls
to give away to one lucky reader
AND
a great offer for everyone!
There are several ways to enter - here are the rules:
Please note: Your email address

MUST

either be in your comment or available on your blogger profile or your entry will NOT count!!
**
*
Pop on over to
Good For You Girls
and look around a bit. Then come back and tell us why this would be a fantastic product for the girl in your life.
*
Become a follower on
Twitter
. Leave me a comment to let me know your twitter name (if you are already a follower, leave me a comment with your twitter name).
*
Become a fan on our new
Facebook
page. Leave me a comment to let me know your Facebook name.
*
Subscribe to our
RSS Feed
or sign up to receive Pink Lemonade by
Email
. Leave me a comment to let me know you. If you are already a subscriber, leave me a comment and let me know.
*
Blog about our contest on your blog. Leave me a comment with your post url.
*
Place our widget on your blog (it's toward the bottom of this page in the far right column - just click "get widget" at the bottom of the widget). Leave me a comment with your site url.
*
Become a member of our
Social Network
. Leave a comment with your username.
*
Sign up for Good For You Girls'
Newsletter
. Leave a comment letting us know you subscribed.
There you have it! Eight very simple ways to enter our contest - how easy is that? Complete rules can be found on our
Contest
page.
This contest ends TODAY Monday, June 8th at 11:59pm (pdst) so don't wait - make sure you've gotten all seven entries TODAY!
Please note:
entries received after the cutoff time will be deleted prior to drawing a winner.
- Liz
Posted by Liz of Pink Lemonade