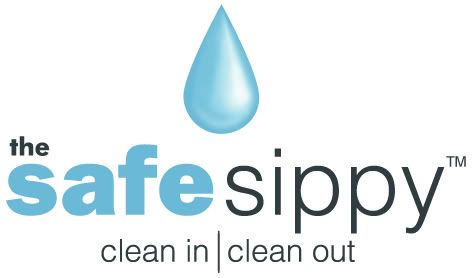 Exactly what are your kids drinking (besides juice) when they're sipping from that sippy cup you bought at your local discount store?... The answers just might scare you!
The answer... Bisphenol A, phthalates and DEHA and those are just the biggies! Glass is a great option as far as being chemical-free, but safety is a big issue here.
The Safe Sippy
has your answer! It is made of stainless steel which does not have any chemicals to leech into your child's beverages. Some of the only plastic parts are the lid and straw and they are certified free of Bisphenol A, phthalates and DEHA. They also put their cups through extensive independent laboratory testing on our cups to make sure they are free of these chemicals. Lastly, we make our cap out of Polypropylene, #5 plastic. PP is the most stable of all plastics.
I received a Safe Sippy to try out and, although both of my kiddos are no longer in the "sippy cup stage", Lauren, my youngest thought it would be great to take some gatorade in when she rode in the car. The safe sippy is sturdy and well made, it washes up wonderfully in the dishwasher and I can tell that anyone who has a safe sippy will most likely have it around for a very long time. The easy grip rubber on the outside made it comfortable for little hands to hold and the handles would make it very easy for a toddler to use. If my kids were at the sippy cup stage I would definitely ditch the old plastic sippys and replace them with these in an instant!
We have One (1) Safe Sippy 2 sippy cup from
The Safe Sippy
to give away to one lucky reader.
There are several ways to enter - here are the rules:
Please note: Your email address

MUST

either be in your comment or available on your blogger profile or your entry will NOT count!!
**
*
Pop on over to
The Safe Sippy
and discover this new way for little ones to sip safely. Then come back and leave us a comment telling us why you think this is a great thing to have.
*
Become a follower on
Twitter
. Leave me a comment to let me know your twitter name (if you are already a follower, leave me a comment with your twitter name).
*
Become a fan on our new
Facebook
page. Leave me a comment to let me know your Facebook name.
*
Subscribe to our
RSS Feed
or sign up to receive Pink Lemonade by
Email
. Leave me a comment to let me know you. If you are already a subscriber, leave me a comment and let me know.
*
Blog about our contest on your blog. Leave me a comment with your post url.
*
Place our widget on your blog (it's toward the bottom of this page in the far right column - just click "get widget" at the bottom of the widget). Leave me a comment with your site url.
*
Become a member of our
Social Network
. Leave a comment with your username.
There you have it! Seven very simple ways to enter our contest - how easy is that? Complete rules can be found on our
Contest
page.
This contest ends TODAY Thursday, June 11th at 11:59pm (pdst) so don't wait - make sure you've gotten all seven entries before it's too late!
Please note:
entries received after the cutoff time will be deleted prior to drawing a winner.
- Liz
Posted by Liz of Pink Lemonade