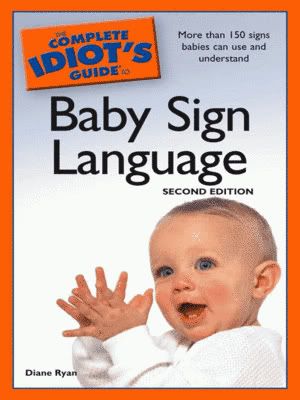 When your children were small - I'm talking before they could talk - do you remember those frustrating days when baby knew exactly what they wanted, but you had no clue? The endless times you'd use trial and error to figure out the exact thing that would make them happy, calm them down or just plain stop the crying. How many times do you remember just wishing they could tell you what was wrong?
Well, new parents can actually experience their pre-verbal children telling them exactly what they need.
"The Complete Idiot's Guide to Baby Sign Language"
tells us exactly how to teach baby the 150 most common simple signs. Signs like Play, Stop, Yes, Cold, Eat and Hurt are just a few that you can well imagine would come in very handy. Plus, this book gives you tips for easily teaching babies beginning at six to seven months old. Babies are smart and quickly learn that using a sign to tell you what they want is much more effective than just plain crying.
I can't tell you how much I wish I would have had this book when I was expecting my oldest daughter - both of my kids would have been signing as soon as they could and life would have been so more peaceful.
We have one (1) copy of
"The Complete Idiot's Guide to Baby Sign Language"
to give away to one lucky reader!
There are several ways to enter - here are the rules:
Please note: Your email address

MUST

either be in your comment or available on your blogger profile or your entry will NOT count!!
**
*
Leave us a comment on
any
post here at Pink Lemonade (
be sure to comment on this post & let us know where you commented
).
*
Become a follower on
Twitter
. Leave me a comment to let me know your twitter name (if you are already a follower, leave me a comment with your twitter name).
*
Become a fan on our new
Facebook
page. Leave me a comment to let me know your Facebook name.
*
Subscribe to our
RSS Feed
or sign up to receive Pink Lemonade by
Email
. Leave me a comment to let me know you. If you are already a subscriber, leave me a comment and let me know.
*
Blog about our contest on your blog. Leave me a comment with your post url.
*
Place our widget on your blog (it's toward the bottom of this page in the far right column - just click "get widget" at the bottom of the widget). Leave me a comment with your site url.
*
Become a member of our
Social Network
. Leave a comment with your username.
There you have it! Seven very simple ways to enter our contest - how easy is that? Complete rules can be found on our
Contest
page.
This contest ends TODAY Monday, June 1st at 11:59pm (pdst) so don't wait - make sure you've gotten all seven entries TODAY!
Please note:
entries received after the cutoff time will be deleted prior to drawing a winner.
- Liz
Posted by Liz of Pink Lemonade