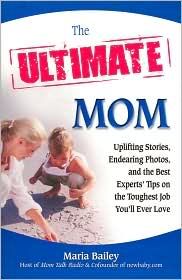 THE ULTIMATE MOM
Uplifting Stories, Endearing Photos, and the
Best Experts' Tips on the Toughest Job you'll ever Love
By Maria Bailey
Host of Mom Talk Radio & Cofounder of newbaby.com

Must-know advice, entertaining stories, and compelling photos for—and about—the greatest source of unconditional love . . . MOMS

Motherhood. There are few words in the English language that conjure up as many images and emotions as this one simple word. Every year, four million women in the United States give birth, while more than 250,000 adopt children in this country or beyond our borders. Still others marry into the role of motherhood, committing to care for their spouse's children from another marriage or become a foster parent to a child who yearns for the warmth of a mother's love.
The Ultimate Mom: Uplifting Stories, Endearing Photos, and the Best Experts' Tips on the Toughest Job You'll Ever Love
(Health Communications, Inc.; April 2009) by Maria Bailey is the "Ultimate" collection of stories of the joys and challenges of motherhood, combined with the best must-know advice from parenting experts.
A sampling of the wonderful and varied stories within THE ULTIMATE MOM include an hysterical account by one South Florida mom of having to make it through security at Ft. Lauderdale-Hollywood International Airport with her teenage son and his friend, only to be stopped by security . . .
"One of the agents grabbed a plastic bin. He asked me to step over to where they had corralled Danny. Danny removed two silver necklaces. He took off a belt and a watch. The watch face was the size of a personal pan pizza. The boy was so heavily laden with metal you could've sunk him for an artificial reef . . . From the depths of his pockets Danny brought forth a bundle of keys; several packages of guitar strings; quarters, dimes, nickels, and pennies; three football-shaped fishing weights; and a knife. Wisely, the agent confiscated the knife."
Or the very moving story of a woman with cancer who dreams of becoming a mother. Unable, because of her illness, to bear children she applies to one adoption agency after another only to be turned down until one day the unimaginable happens . . .
"Passionate, powerful, unconditional love like I had never known enveloped me like uncontrollable waves. A sense of peace and wholeness fell upon my spirit as I cradled my baby and gazed into her dark eyes. I needed her as much as she needed me. She was mine . . . it was as though she had always been mine and merely waited for the right time to come."
All of the stories in THE ULTIMATE MOM are filled with the devotion and dedication that every mother feels for her child and are accompanied by beautiful eye-catching photos that depict motherhood in all its guises. Advice from experts such as Jen Singer, creator of
www.mommasaid.net
and author of Stop Second Guessing Yourself—The Toddler Years and Leslie Godwin, author of From Burned Out to Fired Up give valuable tips to moms on how to deal with everything from sibling rivalry to parenting a spirited child to achieving life balance and staying connected with your partner. In Must-Know Info, "Finding Your Unique Parenting Style," expert Leslie Godwin counsels moms to:
● Set your sights on the big picture
● Pick your battles
● Use your intuition
● Take a break when you've reached the breaking point
● Pray, practice your faith, and ask for guidance if you are spiritual
With insightful stories, more than sixty, four-color photos of moms, spanning the generations, and sage parenting advice that all moms can use, THE ULTIMATE MOM is the "Ultimate" book for the "Ultimate" job.
ABOUT THE AUTHOR
Maria Bailey is an award-winning author, radio talk show host, and nationally known speaker. She is the founder of
bluesuitmom.com
, the award-winning website for executive working mothers, and cofounder of
newbaby.com
, the largest resource of online video for moms. She is the host of The Balancing Act on Lifetime TV, the host of Mom Talk Radio, the first nationally syndicated radio show for moms, and radio co-host of Good Day with Doug Stephan.
We have one (1) copy of
The Ultimate Mom: Uplifting Stories, Endearing Photos, and the Best Experts' Tips on the Toughest Job You'll Ever Love
There are several ways to enter - here are the rules:
Please note: Your email address

MUST

either be in your comment or available on your blogger profile or your entry will NOT count!!
**
*
Leave us a comment on
any
post here at Pink Lemonade (
be sure to comment on this post & let us know where you commented
).
*
Become a follower on
Twitter
. Leave me a comment to let me know your twitter name (if you are already a follower, leave me a comment with your twitter name).
*
Become a fan on our new
Facebook
page. Leave me a comment to let me know your Facebook name.
*
Subscribe to our
RSS Feed
or sign up to receive Pink Lemonade by
Email
. Leave me a comment to let me know you. If you are already a subscriber, leave me a comment and let me know.
*
Blog about our contest on your blog. Leave me a comment with your post url.
*
Place our widget on your blog (it's toward the bottom of this page in the far right column - just click "get widget" at the bottom of the widget). Leave me a comment with your site url.
*
Become a member of our
Social Network
. Leave a comment with your username.
There you have it! Seven very simple ways to enter our contest - how easy is that? Complete rules can be found on our
Contest
page.
This contest ends TODAY Sunday, June 7th at 11:59pm (pdst) so don't wait - make sure you've gotten all seven entries TODAY!
Please note:
entries received after the cutoff time will be deleted prior to drawing a winner.
- Liz
Posted by Liz of Pink Lemonade