Summer Vacation is officially here!! Both kiddos are now out of school for the summer and early morning routines are on hold for the next few months. Time for afternoons in the pool and dinners on the backyard grill - I truly love this time of year - as long as the weather cooperates and doesn't get too hot (it rarely rains here in the summer so the heat is our biggest battle). This week since I've got three to feed for lunch I've included lunch ideas also for each day - if you like it, I may continue even after school starts back up - let me know what you think!
This week's menu has some easy dinners taylor-made for summer fun...
Monday, June 9th
Lunch: Ham and Cheese Sandwiches
Dinner:
Crockpot Honey Sesame Chicken
Ramen Noodles
Asian Salad Kit
Tuesday, June 10th
Lunch:
Healthy Egg Salad Sandwiches
Dinner:
Steak with Balsamic Mushroom Sauce
Mashed Potatoes
Caesar Salad
Wednesday, June 11th
Lunch:
Copycat Aunt Annie's Pretzels
(these are soooo good! I let my bread machine do all the dough-making work and
once it's ready all I have to do is shape and bake!)
Dinner:
Layered Dorritos Casserole
(spoon into flour tortillas and top with a little avocado and sour cream if you'd like)
Fiesta Salad
(they make salad kids for this or you can just put together your favorite salad and mix
equal parts of ranch dressing and salsa together for a zingy dressing - be sure to add a
few of those leftover crushed up dorritos as a substitute for croutons!)
Thursday, June 12th
Lunch: Nachos
(Top your favorite tortilla chips with this great homemade Nacho Cheese Sauce - it's
smooth and creamy and made with real cheese - no fake stuff here!)
Dinner:
Beer Can Chicken
(as the recipe says, you don't have to use beer - you can use soda or any liquid
you'd like - I happened upon one of these awesome non-stick chicken roasters* on
clearance at Target a couple of years ago - I love, love, love this thing!! You can
use it on the grill, or use it in the oven (just place it on a baking sheet that has low
sides) - instead of using an actual can, you pour your cooking liquid into the little
well that the funnel fits into, then put the funnel back and place your chicken over
it - I like to add lots of baby potatoes in the tray around the chicken as they get all
roasted and yummy as the chicken cooks - ooooohhhh yuuuummmm!!)
Roasted baby potatoes
(I like the little mesh bags of fingerling potatoes from Trader Joe's or Whole Foods -
just rinse them in the bag and pour them in the bottom of the roaster - I also add a
very coarsely diced onion)
Green Beans
(You could put these in with the potatoes to roast if your kids aren't picky about
green stuff touching the rest of their food - lucky you!!)
Friday, June 13th
Lunch:
Homemade Pizza Rolls
Dinner:
Crockpot Sloppy Joe Casserole
Caesar Salad
Saturday, June 14th
Lunch: Leftovers
Dinner:
Bacon BBQ Chicken Kabobs
Creamy Ranch Pasta Salad
Grilled Zucchini
Strawberry Ice Cream Brownie Cupcakes
(This doesn't actually have a "recipe", just a picture, but it seems fairly
self-explanatory - muffin papers, brownie bottoms, strawberry ice cream, hot fudge,
strawberry slice all layered)
Sunday, June 15th
Today is Dad's Day!
He gets to go anywhere he wants for the day including lunch and dinner!!
See you next week!
- Liz :-)
This post is part of the Menu Plan Monday theme hosted each week by the sites listed below. For more meal planning ideas, hop on over and check out the other posts today.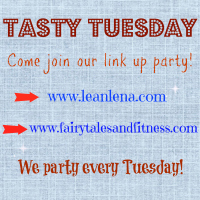 ,